There is a lot going on around the world right now. Even with so many of us still inside for preventing the spread of the virus, we are constantly exposed to hundreds of ads for the upcoming Black Friday. It's a bit funny as in some parts of the world it already happened (as in Romania, for example). However, today I wanted to tell you a bit about one initiative I discovered last year while studying in Sweden. I'll start with this:
We are persuaded to spend money we don't have, on things we don't need, to make impressions that won't last, on people that we don't care about.

Tim Jackson, economist
Where did Black Friday come from?
The history of it is a bit unclear and complex, but we do have some hints. Some suppose that it started once with the financial crash from the U.S. gold market on September 24, 1869. Two financiers worked together to buy up as much as possible from the nation's gold so they could set the price sky-high and get astonishing results. Of course, once the conspiracy was revealed, the market went into free-fall and bankrupted everyone from Wall Street, from farmers to barons [1].
Another theory, also the most commonly known one, again in the U.S. with the day after Thanksgiving being typically a day off, it allowed Christmas shoppers to get a jump ahead on their gift preparing and buying. The retailers took advantage of this opportunity by holding major sales, helping them tip their annual sales numbers into "the black" (apparently making up for "the red" which meant losing money).
Actually, the real story brings a different facet to it: in Philadelphia, the police force used the term "Black Friday" to describe the chaotic traffic caused not by big sales, but by massive attendance for the Army-Navy football game held annually on the Saturday after Thanksgiving. (Apparently, everyone came to town a day early.) It was only in the 1980s that retailers began to truly embrace the day for sale purposes [2].
This year Black Friday is on November 27, but early deals started in many countries.
What is the deal with Circular Monday?

Circular Monday started back in 2017 in Malmö, Sweden by an amazing circular cloth-repair start-up, Repamera. They wanted to bring an opposite view to Black Friday, which year by year is pumping us into buying more and more and more. Black Friday promotes a linear consumption and shopping hysteria. Everybody being all over the place, everybody trying to get the best deals, and everybody stepping on one another to get that dress or whatever else. In the past, there has also been the "Buy nothing day", a kind of antidote to Black Friday. But Repamera believes that the future is in the middle. How can we consume as much as we want, without actually exploiting all resources from our Mother Earth? [3]
If you're wondering why we need something like this, the answer is right there: we've produced and used too already. Mother Earth is suffocating. We annually produce about 2.01 billion metric tons of municipal waste [4]. We've simply done enough, and it's time now to start rethinking the ways we do things. And yes, I hear you, it needs to start from up too. It's true, but before it does, it has to start from each and every one of us. Systemic change comes with us all on board.
First, what do you mean by Circular?
Circular comes actually from Circular Economy. If you're a sustainability nerd as I am, it's impossible to not have heard about it. A short definition, "it's based on the principles of designing out of waste and pollution, keeping products and materials in use for as long as possible, and regenerating natural systems" [5]. In simple terms, it can be translated as reusing what we already have; taking good care of our belongings when we wash or clean them, sharing, repairing, borrowing, upcycling, and redesigning. Turning waste into resources, trash into treasure.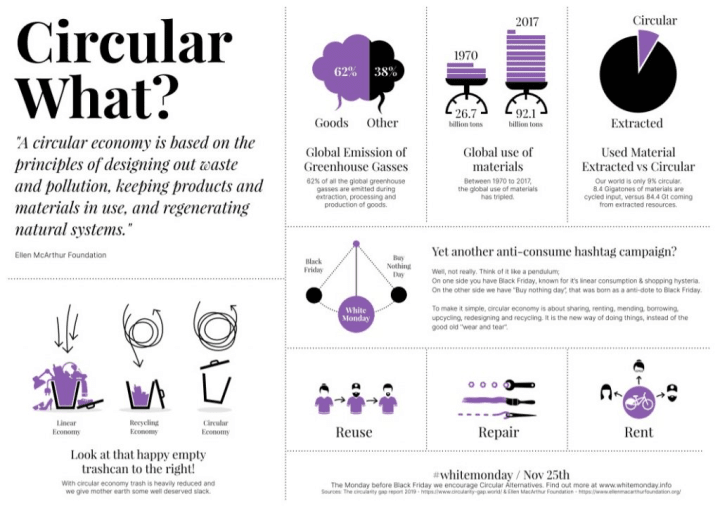 Are there any examples on circular consumption?

These are some of the examples given by the founders of the movement, but many others also. And it's quite easy to picture it too: we used to rent CD's before the internet and streaming services became a thing; we are repairing our bike or car or whatever else, because who has money to buy a new one everyday; we should support reuse or second hand or thrift shops as much as we can.
What can I do to support a circular consumption society?
Now, don't get me wrong. Go buy, and do your thing. What I'm trying to say is that before you do, I'd like you to think twice or even more times. Do I really need this? Am I really going to use it? 
Let me challenge you on something. Take today, after reading this, and think about the thing or things we had in mind to buy. Now go to your own wardrobe, dresser, closet, or wherever you're having your things. Take them all out and have a look through all your stuff. Do you still need all these new things you were planning on buying? Can you maybe reuse something that you already have? Or repair it?
Wherever in the world you are situated, I am pretty sure that you can find places where you can fix your old clothes and so, and those small places, they really need our support right now. There are almost everywhere programs for the old electronic product where you can return them, and you can either get a voucher or some kind of a discount for it (I'll definitely dive into this in the future, as I am truly curious to see how truly "sustainable" are them). For sure Circular Economy is quite complex too and it might take some time before we actually get to see results, but it cannot happen before we all acknowledging the importance and potential of it.
One thing that you can do immediately, is spreading the word on this initiative and join the circular movement on social media. This year, Circular Monday is on the 23rd of November, the Monday before the big Black Friday. So take a photo of yourself or a group of people holding a #circularmonday sign and share it on social media including the hashtag.
If you liked this kind of writing, share it further and I will keep writing on the subject. I have a lot of interesting topics in my mind to bring about. Also feel free to get in touch with me if you would like to discuss further.
Article initially published on Vocal.Media
[1] What's the Real History of Black Friday?
[2] What about Black Friday and Cyber Monday 2020?
[3] #CircularMonday by Repamera
[4] World Bank: Global waste generation could increase 70% by 2050